Home

Search by Industry

Clicking on an industry type will display the list of businesses in that category.

※Unauthorized reproduction and/or reprinting of articles and photographs posted on this site is prohibited.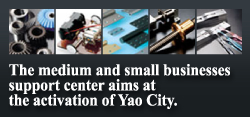 We support medium and small businesses in Yao City in a number of ways! We provide support to resolve a variety of issues for all medium and small-scale businesses.
Click Here for Detailed Information